Sports and Performance with Our Stabyhouns
Your Sporting Companion!

The Stabyhoun is an active dog that likes to have something to do.  They look forward to a good workout.  That can be agility, fieldwork or just a nice long walk with its owner and a tossed tennis ball.  Fun with our Stabys does not need to be competitive.  Try nose work or "dock diving" from your own pool or lake dock!  Teach your dog all kinds of tricks.  They do flyball, they love to retrieve tennis balls, and they show off at obedience class.  They are intelligent, fast, flexible and very eager to please.
This is a soft breed that responds well to positive reinforcement such as clicker training and shaping exercises, but that crumbles under pressure and force. Never force your new Dutch companion to do anything he doesn't want to do. According to Patty Janssen from the American Stabyhoun Association, the Stabyhoun needs to figure things out at their own pace – letting their own natural curiosity get the better of them. "These dogs can read you like a book and, once they understand what you want them to do, there is no stopping them.
The Stabyhoun is easy to train.  But, as an example talk to anyone who has trained their Stabyhoun for agility and they will tell you that these dogs are reliable and very accurate – hardly ever putting a foot wrong. Wonderful, you might think? They then tell you to allocate at least twice as long time to training one compared with other breeds, and to come armed with buckets of patience.
The Stabyhoun is a strong partner.  He constantly looks to you for guidance and keeps a strong focus on his handler.  This is a good thing for all activities or sports that include the human and the canine team – be it scenting, fieldwork, obedience, agility or taking a walk.
Take it Slow.  If something doesn't quite go according to plan, take a step back and take your time to build their confidence before moving on. Like an elephant that doesn't forget, a bad experience can easily leave a lasting impression so find a trainer who understands how to work with more sensitive and pensive breeds.  Most importantly, do not "drill" the same exercise over and over.  It is a quick way to shut this dog down.
Get the Basics Right.  The Stabyhoun is known for requiring less 'maintenance' training than other breeds. And the calm, patient demeanor which stems from its mole-catching heritage means your training can focus on what you want him to do without having to try and 'manage' unwanted behaviors.
Be Safe!  Be aware of the injuries that can occur due to improper techniques (such as throwing a ball overhead or jumping before bones are fully developed), warm-ups and cool down and stretching muscles.  Remember this is a canine athlete and, just like humans, they are prone to injuries without muscle development, toning, and maintenance.
Sport and Performance Committee Coaches
The ASA has grouped sports and activities into clusters.  Each sport or activity has (or will have) ASA Member Coaches who are volunteering their time and experience to help Staby owners who would like to explore that activity.  They can also help answer questions regarding the sport or support with resources.  A Facebook page has been started that is linked to the ASA Brag Page.  This is a place where interest in activities, as well as canine fitness, can be shared. Everyone is welcome to participate from seasoned competitors to the very beginner!
Goals:
Raise the Staby Owner's awareness and interest of Canine Sports and Activities.
Increase the Staby's participation in community events and therefore increase the Stabyhoun's exposure to the Canine Community.
Our Coaching Team
Mary Meila – Nosework (Scent Work). Mary is a Coach and a Nosework Judge. She owns, Nico, a Stabyhoun.  Nico is her "snuggle bunny" as Nico has told Mary often that he is not interested in Nosework.  His current job is to let everyone know if something is going on outside and simple to cuddle with his human friends.  Mary has been training and competing in dog sports for almost 20 years.  She originally trained and competed in Obedience and eventually earning OTCH.  She and her dogs also competed in Rally.  With her dog partners they earned their RAE and ARCH MX.  In 2010, Mary was introduced to Nosework.  She began to compete and along with Casey, her canine partner, they have achieved their Elite Titles ElT2 before Casey retired.  Mary is currently her second Nosework dog, Sophia.  Mary teaches Nosework classes.
Cindy Pfister – Barn Hunt (Scent Work), Canine Good Citizen, and Farm Dog (Manners).  Cindy is both a coach and a judge in each of these activities.  All are part of the Scent work Group. Cindy was our ASA Past President for 6 years and is currently part of our International Relations Team.  She has been active in all of the committees, rescues the few Stabyhouns in need, breeds and works with all of the puppy and Staby owners.  She has been key in reaching out at an International Level to the Stabyhoun Associations and the Initiation of the North American Stabyhoun Association She is on the Board of Directors and is also Chair of the Ain't Misbehavin' Training Group.
Roger Abbey – Field Work.  Roger owns and trains his Stabyhoun, Skyler Finn, in the field.  Roger, his wife Wendy and daughter, Kayla, were not looking for a hunting dog, but rather a smart trainable medium-sized dog, good temperament and good with other dogs and children.  Roger was an avid hunter with his Norwegian Elkhands and so in 2016 he began seriously training Skylar Finn at upland bird hunting.  Skylar Finn has achieved his 3rd KC Hunt Test in June 2018 with Skyler earning 3rd place.   Skylar Finn is the first North American Staby that has achieved that title.
Caroline Le Bel – Agility (Speed and Accuracy).  Caroline is French Canadian and has lived in the US for 13 years. She has 4
children and 2 grandchildren.  She has a BS in Special Education and over the last 7 years, she has developed a small sewing and embroidery business.  She started agility 12 years ago but along with her Goldern Retriever, Scout – now 9 years old, they learned together.  They have earned many titles and championships in agility, obedience, and rally.  Caroline competes in USDAA, AKC, CPE, and UKI.  She is training 2 more dogs, Beya a 6-year-old Stabyhoun, and Kampay a 3-year-old Border Collie. Beya taught Caroline so very much since she is so different than a Golden Retriever.  She has earned many titles in Obedience and Agility and has earned her CS-ATCH in CPE Agility.  Caroline uses One Mind Dog as her primary handling technique for agility – but adjusts methods to fit each dog's needs.
Eva Susanne Layton (Susi) – Obedience (Precision).  Susi is passionate about the Stabijhoun as well as positive competition dog training.  She marvels at the wonderful bonding experience accompanies it.  She has been a member of the ASA for 10 years.  She graduated from Kennesaw State University with a BS in art.  She shares her life with her husband, Brent, children Isabella and Julien, as well as two Stabys – Eelke and Felix.  They live in Georgia.  Eelke is happily training for AKC Scent Work at the Excellent Level.  She has received high in trial award at the Advanced and Elite Levels.  She is happy and ambitious in her work.  In Obedience, Eelke has achieved her Open and Novice Titles, as well as AKC Novice and Preferred Open Titles.  Felix, the newest member of the Stabyhoun Family, is currently training in agility, obedience, conformation and scent work.  He is currently competing successfully in Novice Scentwork.
Ari Goerlich – Rally (Precision) and Dock Diving (Water). Ari has had dogs since she was 16 years
old as pets and also hearing dogs for her son.  All were well behaved and off-leash – even at mid-day in the middle of a big city.  None were trained for any sports.  Rimke was their 2nd Staby and was easily trained as her son's 3rd hearing dog.  Ari had to work with Rimke's through his reactivity when he was attacked by a "friendly" off-leash dog.  He earned his first agility title when he was one year old and he started jumping off of the dock at his own lake, he was in his first Dock Diving Competition at 3 years.  Barn Hunt, obedience and rally came next.  All of these activities helped him overcome his reactivity to high drive and excited dogs because he learned that other dogs were with responsible owners and he was at a safe distance.  This allowed him to gain confidence.   Rimke earned his Canine Good Citizen and Community Canine Good Citizen Titles.  Today, Rimke actively trains and competes in Agility, Nosework, Dock Diving, Lure Coursing, Barn Hunt, Obedience and Rally.  He thrives on a variation of sports.  He has 81 titles and earned Invitations to Rally and Dock Diving National Championships for the past 2 years (2018-19).  He also earned his Trick Dog Elite Title at the 2018 AKC National Invitational.   Ari and Rimke recently added a border collie to their family.  Dr. Ari Goerlich is a veterinarian.
Kathy Banks – Tracking (Scent Work), FreeStyle and Tricks (Precision).  Kathy began her canine sporting career in agility with her now, a 14-year-old, springer spaniel.  She also trained in Canine Free Style ( Tricks choreographed to music – her words). She learned after 7 years that this springer was telling her he wanted to use his nose.  Ruby was a gifted Tracker.  Ruby and Kathy learned under a Certified SAR Instructor and worked in this field until Ruby retired 2 years ago at age 12.  To "read" a dog from a 20-25 foot long line is an amazingly exhilarating experience –  as Ruby tracked where people had trecked hours earlier.  Kathy and her husband Dennis brought Mountain View's Kaiser (Skylar) a Stabyhoun to the family in 2014.  Skylar now, 5, competes in USDAA, AKC, and ASCA in agility.  He has earned his CCGC and CGC Titles, Novice Trick Dog Title, and Farm Dog Certification.   A second Stabyhoun, Dori, was brought to the US from the Netherlands in 2018.  Dori has a propensity for great scent work. She is learning Nosework and will begin her Tracking Career as well.
Sport and Performance Units
Scent Work  
Nosework – Coach and Judge, Mary Meila
Barn Hunt – Coach and Judge, Cindy Pfister
Tracking – Coach, Kathy Banks
Field 
Field/Gun and Retrieving – Coach, Roger Abbey
Speed and Accuracy
Agility – Coach, Caroline Le Bel
Lure Coursing – Coach, TBD
Flyball- Coach, TBD
Precision Sports and Activities
Obedience – Coach, Suzi Layton
Rally – Coach, Ari Goerlich
Conformation – Coach, TBD
Tricks and Canine Freestyle – Coach, Kathy Banks
Manners
Therapy – Coach, TBD
Canine Good Citizen, Coach and Judge, Cindy Pfister
Farm Dog. Coach and Judge, Cindy Pfister
Water 
Dock Diving – Coach, Ari Goerlich
Swimming, Paddle Boarding, Surfing – Coach TBD
Herding
Canine Mental and Physical Conditioning
Let's Explore the Canine Athlete
Let's Explore Fieldwork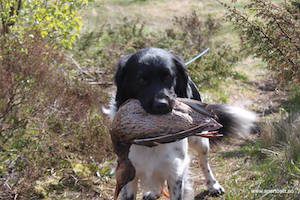 In Europe and Scandinavia, a number of people use the Stabyhoun as a gun dog. They are happy to spend hours in the field and will wait patiently and calmly for the shot. Historically used as both a pointer and soft-mouthed retriever for hunting ducks and rabbits, the Staby also has an impressive nose and has become successful at blood tracking.
The breed requires a lot of patient and consistent training, early exposure to game and the sound of the gun. It is a dog that needs 'building up' rather than 'controlling' at a young age. Do not begin with steadiness training or you could all too quickly find his enthusiasm gone for good.
Below are the words of Klaas Zonnebeld, one of the premier field and hunt trainers in the Netherlands. He specializes in training Stabys and his own Baike has set a high bar for others to follow.
"If you are not used to Stabys you have to understand that they can be very stubborn and soft at the same time. That combination is not easy but makes it extra fun when you get results even when it sometimes is in very small steps. To train a Staby is NOT to train them in the first year but just have fun with them. So the trick is to train them without them knowing that you are training. Usually, after one year you can start to become serious about training and sometimes show the Staby that I am more stubborn than he or she.
We, as breeders, start training our dogs very soon — I think from day 2 or 3. I usually start by putting birds into the litter when the eyes and ears are closed. A pup only lives by instinct and smell at that point. So two times a day we put the warm lamp a little higher so the pups are a bit colder and crawl together. Then we take the mother out for walking and instead of mom, we put in birds rabbits etc. The pups crawl together around the bird and the smell will be in the heads forever. We do this until week 6 — it depends a little on how rough the pups are — the rougher they are, the sooner we stop. We do not want them to bite or play with the animals.
Around week 7 we start doing blinds with the pups, not real blinds because they do not know how. We train them so that it is all about fun and play. We put a plastic plate with some (just a little) food on it, we lay it down and show the pup. Then we walk away for three-meter and send the dog to the plate. Success is guaranteed; we do this around three times and the next day we make the distance a little longer say five meters. Each day a little longer until ten meters and than we do double blinds. One on the normal ten-meter distance, and then one with an angle of around 90 degrees at three meters away. The next day we again make the distance of the second blind longer until we have both plates at 10 meters. We can go on and on with this play. But to do it with all the pups will take time and before we know it they are at their new owners."
Let's Explore Scenting
Let's Explore Speed and Accuracy Sports
Let's Explore Precision Work
Let's Explore
Let's Explore Water Sports